Classes & Workshops & Events
Find this page at:
go.ncsu.edu/readext?369377
Upcoming Events and Classes
Classes are held at the Cooperative Extension Center unless otherwise stated. Please call 910-455-5873 to register.
January
---
Regional School Garden Training-January 10, 2020 – Targeted at teachers, school administrators, and Extension agents, this day long workshop will provide participants with the tools needed to implement and effectively utilize school gardens. Pre-registration is required. Follow the link to learn more.
Tree Fruit Production | January 16, 2020 | 9 a.m.-3 p.m. | Cunningham Research Station, Kinston NC | $10
Learn to grow tree fruit for sale or personal use that grow well in coastal North Carolina. We will discuss the fundamentals of growing and hold a pruning demonstration. Special guest speaker, Dr. Mike Parker, is a Tree Fruit Extension Specialist and Associate Professor at N.C. State University. He works extensively with apples, peaches and alternative tree crops.
Registration deadline is January 14, 2020 at 5 p.m. Call Lenior County Extension to register at 252.527.2191
Small Fruit Production | January 25, 2020 | 9 a.m.-3 p.m. | Pender County Extension Office | $10
This workshop will cover which small fruit crops thrive in coastal North Carolina and the details you need to grow them successfully followed by a pruning demonstration. There will be two guest speakers. Dr. Bill Cline is an Extension Specialist who has extensive experience in the production and disease management of blueberries, muscadines and strawberries. Dr. Mark Hoffman, is a Small Fruit Extension Specialist and Assistant Professor at N.C. State University, where he covers strawberry and grape production.
You must register for this class online by January 23, 2020 at 5 p.m.
4-H Electric Project Workshop | January 21, 2020 | Cost $10 for ages 9-12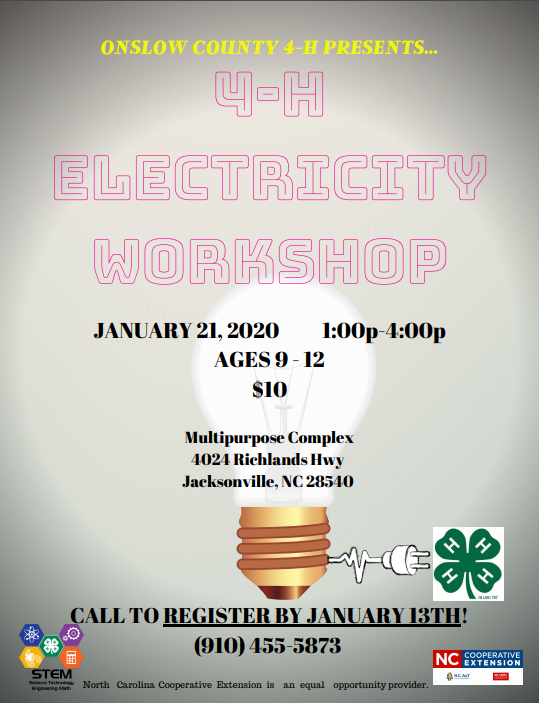 4-H Cloverbud S.T.E.M Workshop | January 22, 2020| Cost $10 for ages 5-8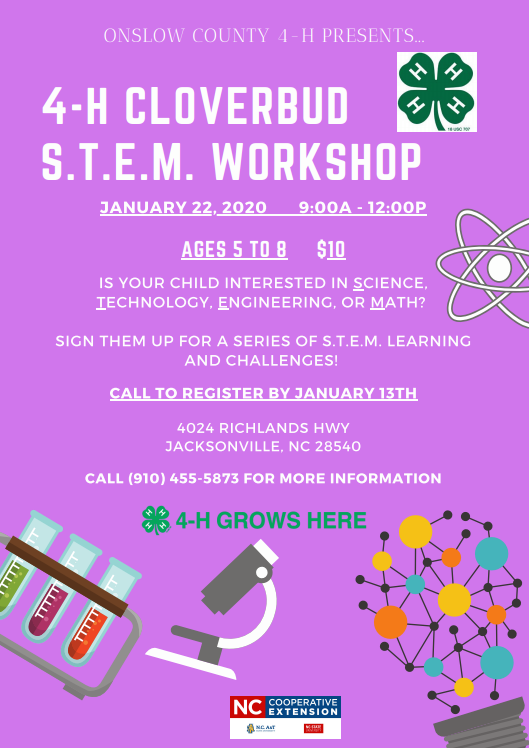 Cook Smart | Eat Smart
– January 10, 17, 24 & 31 |. 10 a.m.-1 p.m. Sneads Ferry Library. The fee for this class is $30 and pre-registration is required. Please call 910.455.5873 to register. Learn to prepare simple and delicious meals using basic cooking techniques.
Cook Smart Eat Smart copy Updated
February
Backyard Birding– February 1, 2020 | 10 a.m.-12 p.m. Do you enjoy watching birds that visit your backyard? Join a Cornell Lab or Ornithology Ambassador to learn how to identify your backyard birds and how you can contribute to citizen science. Pre-register by January 27, 2020 to 910.455.5873.
Growing Fruits and Vegetables in Coastal Carolina– February 22, 2020 |
9 a.m.-3 p.m. | $15 –  Includes lunch and materials.
Topics include: Starting from seed, soils and fertility basics, vegetable garden basics, fruits that grow well in Eastern NC, and managing pests and diseases.
Location is the Onslow County Extension Office |4024 Richlands Hwy, Jacksonville, NC. RSVP by February 17, 2020 To 910.455.5873
Farmers' Market Oyster Roast – February 21, 2020 | Cost is $50 per ticket.
Come support your local Farmers' Market. Oysters, Low Country Boil, Chicken, Cash Bar, Silent Auction and 50/50 Raffle. Contact Marie to purchase your tickets. 910.455.5873 or visit
Onslow County Farmers' Market
Every Month
Zumba – Each Tuesday and Thursday | 5:30 p.m. to 6:30 p.m. Onslow County Multipurpose complex. Open to the public. Fee to attend is $5.00 per session. You do not need to pre-register for these classes.
---