Nematodes in the Home Garden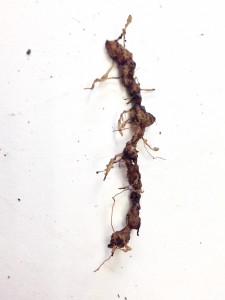 Root knot nematodes have stunted the roots of this tomato plant.
Nematodes are a common problem in sandy soils. Nematodes are microscopic worms that live in the soil. Many nematodes are beneficial, preying on pests, microorganisms and even other nematodes; but some feed on plant roots, stunting growth. Several species of nematodes are found in coastal North Carolina but the most common and easiest to recognize is the root knot nematode.
Root knot nematodes can be a serious problem for vegetables. Affected plants appear stunted and pale, drop flowers and fruits, wilt and decline even when plants have adequate water and fertilizer. The culprit is most obvious when plants are pulled at the end of the season. Root knot nematode infected plants will have bumpy, knot-like galls on the roots.
Nematodes can be a major issue in the landscape as well. Nematodes are a frequent problem on figs and can also affect landscape plants and turf. Infected plants may have poor growth, low vigor, yellowing leaves, loss of leaves and stem dieback. Nematode damage in grass results in yellowing and thinning. Plants affected by nematodes usually decline slowly over a period of several years. Since other problems like root rot or too much fertilizer can cause symptoms similar to those produced by nematodes, it is a good idea to conduct a soil sample to look for nematodes. The North Carolina Department of Agriculture and Consumer Sciences conducts this service for a nominal fee. Contact your county extension office for details.
There are no chemicals available that will kill nematodes in a home garden or landscape but there are several steps that can be taken to manage them. In the vegetable garden, one of the easiest options is to grow vegetables that are not susceptible to attack – including crops like sweet corn, asparagus, broccoli, cabbage, kale, collards, and mustard. When available, choose nematode resistant varieties of other crops such as 'Amelia' or 'Celebrity' tomatoes. Certain cover crops can suppress nematode populations as can frequent tilling in the spring and summer to expose nematodes to sun and air, adding compost to the soil, and soil solarization. For more detailed information, consult 
http://www.aces.edu/pubs/docs/A/ANR-0030/ANR-0030.pdf
 Nematodes are much harder to control in the landscape. Often the best option for landscape beds is to remove infected plants and replace them with resistant species. For lawns, provide optimum fertility and irrigation to prevent additional stress to the turf. If necessary, consider replacing turf with a more vigorous selection or a ground cover.
Was the information on this page helpful?
This page can also be accessed from:
go.ncsu.edu/readext?425091