Coastal NC Landscape Plant Dos and Don'ts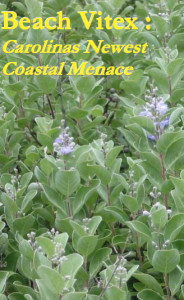 As with any area, proper plant selection along our beaches and barrier islands is very important. The publication, Native Plants for Coastal North Carolina Landscapes, is an informative booklet that contains photos and descriptions of several plants well-suited to our coastal areas. Four plants not recommended are also discussed:  Beach vitex (Vitex rotundifolia), Pampas grass (Cortaderia selloana), Thorny-olive (Elaeagnus pungens), and Saltcedar (Tamarix spp.).  Each of these plants is considered highly invasive.
Further information about Beach vitex is available from the Beach Vitex Task Force, along with identification, control, and reporting procedures. It is a noxious weed in NC and illegal to sell, distribute, or move this species from one property to another.